Personal Achievement Academy
Go beyond teaching martial arts and become a valuable asset to your community. By enrolling in Millennium Training, you have access to our character development materials and the Personal Achievement Academy, our non-profit program that helps you reachout into your community.
Each month we give you Monthly Character Development handouts that students love. With these, you are helping to create champions for the game of life. Each one focuses on a new character trait and gives your students tasks to complete each week.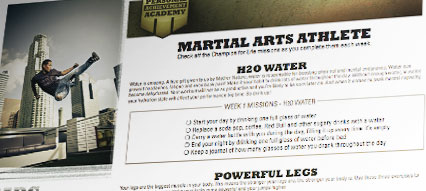 With the Personal Achievement Academy, we give you the tools to reach out to your community by providing personal safety courses in the public schools and community centers. You'll be seen as someone who truly cares about child safety and is the go-to expert on the issue. This kind of goodwill gesture increases the visibility of your school.
You get a special certificate and access to these videos, handouts and programs:
Professional School Talk Program
Kid Safety Course
Kid Power Bully Defense Course
Kid Power Fundraiser Program
Kid Power Health and Fitness
Success Course for A+ Grades
With the Personal Achievement Academy, you will team up with your local school system and community to reach over 1,000 families a year. Schools average more than 20 additional intros per month with our programs.
ENROLL NOW