Instructor Training
Build Your Team of Instructors and Get the Best Drills for Dynamic Classes.
Millennium Training has developed a system of instructor training modules that will help you build your Dynamic Instructor Team and elevate the knowledge and professionalism of your staff.
Classes are the main product you sell. If your staff isn't up to par and committed to the same level of excellence as you, then you'll have a very difficult time growing your school the way you expect to. Build the high energy instructor team that will fill your classes with students and help your school thrive with success. Bring everyone up to speed with the lessons we've developed and you'll start to see immediate changes in the way your school operates.
Our Instructor Training has 2 main functions:
A 6-month Instructor Training Program and Floor Manager Program to build your dynamic team of instructors
Over 100 different drills, class formations, and performance games to have the best high energy training floor in your city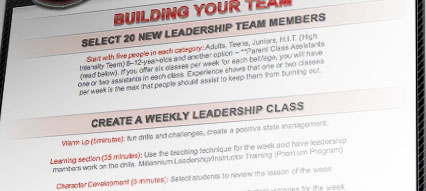 Create dynamic class experiences your students will love. Enroll today to get your staff on the path to success.
ENROLL NOW